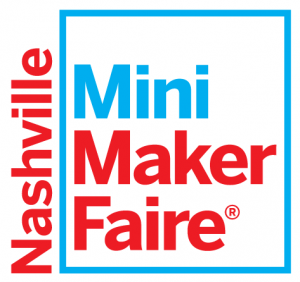 The planning for the inaugural Nashville Mini Maker Faire, September 21st at the Adventure Science Center, is in full swing. I'm happy to announce that our call for makers is officially open!
What are we looking for? Passionate and creative makers! The Faire is a daylong celebration of making. We want people to show off their cool inventions, sell their wares, teach workshops, give presentations, and perform with their handmade gear. We're also looking for volunteers. We need social media gurus, planners, bloggers, av techs, general volunteers, and more. Leadership positions are still available. If you'd like to be a part of the Faire, head on over to our Participate page to learn more. Once you know what you want to do, fill out the Nashville Mini Maker Faire Application.
We're also seeking sponsorship from creative enterprises. Find out more on our Sponsor the Faire page.
Middle Tennessee is bursting at the seams with creative people. We hope the Faire will serve as a uniting force for all the amazing groups and individuals in the area.
Here are just a few of the many creative organizations that call Nashville home:

Fort Houston is a 10,000+ sq ft creative space on Houston Street in south Nashville that houses a wood shop, mechanical shop, screen-printing shop, stage, classroom and various shared and dedicated work desks.

Put on by the Nashville Women's STEAM group, Ladies' Hack Day is a day for women of all skill levels and ages to get together and build something radical. If you've *never* written a line of code in your life, but you want to learn, they want you there! If you're a super awesome programmer who knows more about compilers than Grace Hopper, they're honored to have you. You'll leave with a fully functioning project that you can call your own.

The Middle Tennessee Robotic Arts Society is a robotics / makers / technology group in Nashville that meets monthly at the Faire's home, Adventure Science Center. Newbies, gearheads and everyone in between are welcome.

Arts Cubed is a local group that puts on the enormously popular cons Middle Tennessee Anime Convention, Geek Media Expo, and Nashville Zombie Walk. They advance popular visual, performing and literary arts – along with related cultural experiences central to the lives of the community – through events, outreach, education and associated initiatives.

The International Puppet Festival is a three day June event at the Downtown Public Library that hosts performances and workshops from puppetry artists from around the world. One of the guests this year is Phillip Huber, the Emmy award-winning master puppeteer, perhaps best known for his marionette work in Being John Malkovich.

The Apparition Abolishers is a group of costumers, artists, prop-makers and performers. They have won several awards for their costumes, including Best in Show at the 2012 Dragon*Con Masquerade Costume Contest for "Chloe Seachord and her Mechanical Steampunk Wings" (by Leah D'Andrea and Chris Lee).

Plugged In Inc is local technology organization that puts on the popular yearly "unconferences" BarCamp Nashville and PodCamp Nashville.  Their mission is to provide financial stewardship, risk management and volunteer leadership development for Nashville area zero admission fee events.